There are so many decisions to make during the divorce process, many of which can impact the course of your life significantly. From the parenting plan you agree upon to how you'll spend holidays to changes that might impact your job, there is a lot to sort through during this time of transition. One of the biggest decisions you'll make is around your post-divorce living arrangements and the decision to rent or buy a home.
The decision to rent or buy (or even stay in your marital home) will impact your finances at the time of your divorce and for years later. Often, the cost of a mortgage or rent will be the highest bill you pay each month, so it's important not to take this decision lightly. The current real estate market makes this even more difficult with competitive housing offers and low inventory complicating options.
In this post, we discuss the pros and cons of post-divorce living arrangements and what to consider as you finalize your decision.
Pros to Renting & Cons to Buying
There is no doubt that renting offers you more flexibility than other living arrangements. It's a short commitment, often at a lower total price point (without a large down payment required). Renting also gives you time and a new space to clearly think about where and how you want to live long-term. In a competitive housing market, renting may be an easier choice, especially if housing inventory is low.
Leaving your marital home may have emotional benefits like providing a fresh start with new neighbors and friends. Often there is less maintenance in a rental home, or that maintenance falls on the landlord or homeowner rather than you. This also translates to less post-divorce stress, which can assist in your emotional recovery. Be honest with yourself about the cost of owning a home and consider how much savings you must have for maintenance expenses that come up, beyond your mortgage or rent payments. If your former spouse was the type of partner who could fix anything, it could be a struggle to take care of a home on your own, especially with everything else going on.
Financially, mortgage lending requirements may make homeownership out of reach and renting a more attractive option, especially with a single income or lack of past income. If you and your partner had credit issues, this could also make purchasing a home difficult. Lastly, depending on the structure of court-ordered support, qualifying for a loan on your own for the caliber of home you were living in when married could make purchasing the type of home you'd like out of reach.
Pros to Buying / Cons to Renting
If you are able to purchase a home post-divorce, or anytime, it helps with building equity and on-time mortgage payments help with rebuilding credit. Even purchasing a small home post-divorce can be a great long-term investment and help you rebuild assets. Most homes will appreciate over time, which makes owning property an attractive investment. Purchasing a smaller home post-divorce could eventually convert to a rental home in the future as you continue to accumulate wealth or even get remarried.
A new home can also be empowering and give you another reason to work hard at rebuilding yourself financially after a divorce. It can be emotionally liberating to call something your own and navigate the home purchasing decision-making process without your former spouse.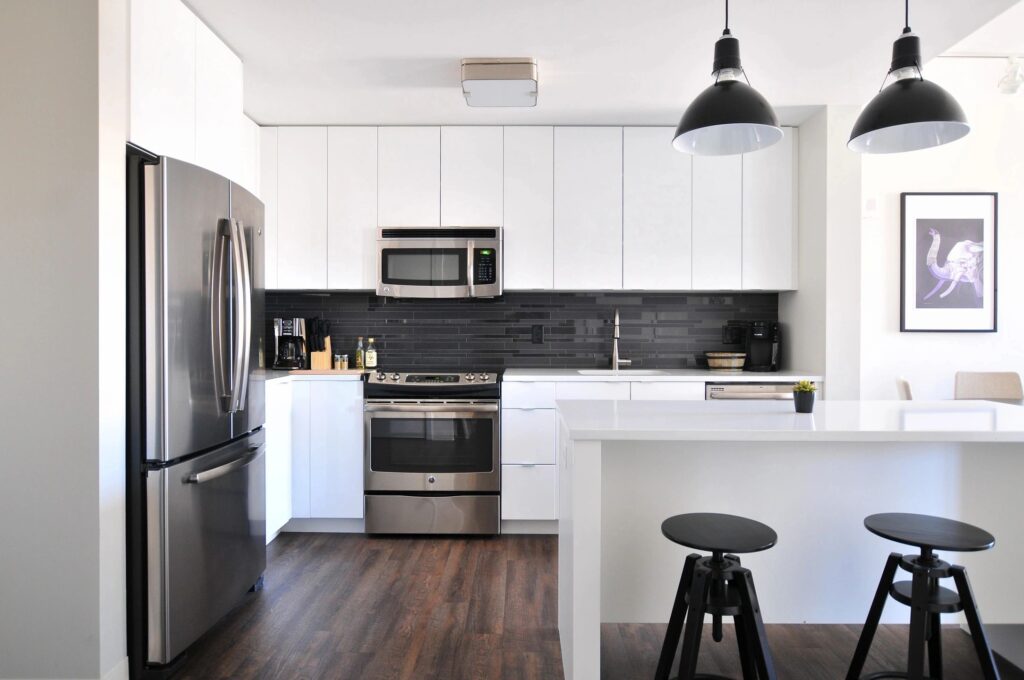 Staying in Your Marital Home
Another option to consider is staying in your marital home. If you are receiving support, it is vital to determine prior to making final agreements whether you'll have enough maintenance and/or child support (or other savings) to qualify to keep your home by refinancing (or purchasing a new home) and for additional expenses that will come up.
Staying in your marital home is particularly important to consider if you have kids. Kids may benefit from staying in the marital home with one parent for continuity during a time of so much change. However, if the home is a financial burden, the kids will do better in a home without overwhelming financial stress on their parent, allowing the parent to focus their energy on rebuilding a healthy environment overall.
One other benefit of staying in the marital home is that there is less change and one less thing to worry about during this time. Divorce is a time full of change, and if that makes you highly anxious, eliminating one major change and staying in your home may help. On the flip side, staying in your marital home, with memories, history, and the same neighbors may make moving on more difficult.
If your home is the largest financial asset you own together and you are wishing to keep the home, you may be tempted to offer other assets, such as retirement, cash or stock assets, in exchange for home equity. This may not be the best financial move for you since more money would be tied up in your home versus available for unexpected expenses and could have tax issues to take into account. It is important to understand how a lopsided asset division can affect you long term.
Lastly, it's critical to review future tax consequences of keeping the marital home, especially in a hot real estate market. Many recent divorcees are unknowingly incurring substantial future tax consequences by retaining the home themselves. A financial advisor can review your exact situation and advise accordingly.
The decision to buy or rent is often personal, and a financial advisor is your best ally in running scenarios and talking through the best options. It's important to weigh both the finances and emotional connection to the home (both good and bad) as you arrive at the decision that is best for your family. Everyone feels the financial impact of a divorce and a financial advisor can really help you understand what is best now and for the future. Contact A.M. Financial for a free consultation and learn more about how we can help.