The holidays are upon us and if this is your first year approaching them as a single individual, you may not know what to expect. Whether you have kids and a large
family to buy presents for or are concerned about not having a place to spend Christmas with others, it's important to start planning this season earlier when you are divorced. It's also critical to consider how the holidays will impact your budget, spending, and financial situation. In this post, we cover what to consider as a newly-divorced individual from both a scheduling and financial perspective, and how you can adequately prepare for this season.
Holiday Schedules
Depending upon whether you still have kids living in the home, your holidays may look very different than year's past. If you are newly divorced, take time to review the details of your parenting plan, including the exchange times and locations. By understanding exactly what time you have with your kids, you can maximize the quality of that time. Recognize that it can be very hard to be away from your kids and miss holiday rituals in the first years of your divorce. However, if you don't have your kids on Christmas morning or during other important holiday moments, choose another day to observe them. This approach will help you create new traditions despite the day of the calendar. The same goes for Hannakah or other religious and non-religious celebrations and traditions.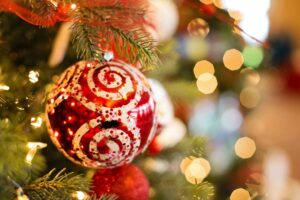 Because you don't have a default relationship like you had with your spouse, plan ahead and decide where you'll spend important holiday times so you can avoid spending too much time alone. Don't be afraid to carve out some time for yourself during this first holiday alone. That important time of reflection can be spent focusing on this next chapter, setting goals, and reflecting on the past since you just went through a major life change. Tap into gratitude for the lessons of your divorce and the transformation that occurred.
Consider new traditions for yourself as well. Volunteering is a popular way to give back during the holidays in a meaningful way. While the holidays can classically be a time of over-indulgence, consider a day or weekend of self-care around this time by treating yourself to a financially reasonable spa day, having your closest friends over for a potluck-style dinner, or attending a holiday event to get in the spirit.
Lastly, you may question how to approach gifts this year. Many divorced parents will give their former spouse a gift in the early years, especially if it showcases kindness and respect on behalf of your kids. When it comes to kids, discuss gifting expectations with your ex so your kids don't get duplicate gifts or have wildly different gift experiences based on your set budgets. Lastly, consider gifts that are experiences as you likely have less time with your kids overall now. Consider gifts that will provide a lasting memory by giving them life experiences you can share together like indoor skydiving, tickets to sporting events, weekend adventures in the Colorado mountains, and more.
Holiday Finances
While scheduling can be a major challenge for newly divorced individuals, the financial aspects of the holidays can also challenge your budget. It's important to financially plan for holiday spending all year long.
First, set realistic expectations around gift-giving with your family and children. This includes suggesting setting price limits for gift giving. While not always possible the first year, it's ideal to work these costs into your budget and set aside some money each month for holiday gifts, now that you are on a tighter budget. This year, inflation will make it feel as if your dollars don't go as far.
Managing your holiday spending and avoiding debt once you are divorced is very important. Holiday expenses, including paying for holiday events, food to host a family dinner, new holiday decorations, and of course, gifts, can quickly add up. It's hard to get out of debt with fewer financial resources and more fixed expenses, and also important to stay financially healthy in order to qualify for a home or auto loan post-divorce. Not to mention, saving for retirement should be a far greater long-term priority than creating a picture-perfect holiday celebration for your family.
In order to budget effectively for the holidays all year long, and stay out of debt, work with a financial planner to set reasonable, monthly allocations to a holiday fund based on your income. This year, notice whether you are overdoing it and trying to compete for your kid's or family's attention by overbuying or overextending yourself with holiday events, decorations, gatherings, and more. Getting into debt as a single person can be detrimental to your long-term financial situation and it can take a lot more time to recover from debt post-divorce than you might expect.
Contact Amy Mahlen, Certified Financial Planner™ at A.M. Financial, to learn more about our services and how we can help you better prepare for the financial impact of the holidays moving forward.